I didn't expect her call and her first question that afternoon. Are you on MMM? She asked. They are even giving 50% returns on deposits in December. She added. I laughed, surprised that she could discuss this with me. Between us was basically a doctor-patient relationship. Three days after that call, the devastating news dropped. MMM froze. My friends had persuaded me to join the scheme. Two of them, most passionately but unsuccessfully. They both knew the risk but were willing to wager while it lasts. They agreed that it would crash. Sometime. Somehow it became the talk of the town trending across most social streams.
Before we knew it, other money-doubling schemes sprang up. Some promising up to four times initial deposit. But MMM was the real MVP. I heard and met people who had made serious envy-provoking gains from the pool. I heard that a certain classmate had become a chief "guilder" (as they are called) and would not entertain skeptics. Skeptics were pessimists and ignorant. But I personally do not think MMM is a scam. I was at the point of giving it a trial. Afterall salary may be delayed till next year. Meanwhile the popularity grew readily like thick cloud in winter.
I heard that unpaid and helpless civil servants especially in the southeast and southsouth were massively on it. I heard bankers and managers were "caught" doing it. I heard many professionals alongside vulcanizers, agbero, danfo driver, Iya Risikat alata (pepper seller) and Baba Wale eleran (meat-seller) were doing it. It was the new Baba Ijebu. I heard some people quit their dissatisfying and enslaving jobs "to have time to focus" on MMM. I heard my highly industrious Igbo brethren had taken it personal and represented over 50% of subscribers. I went to Ibadan my hometown and it was the talk of the town. They told me some banks now create special queues in the halls for subscribers paying for mavros. I saw many funny short videos, memes, gifs, done in support of MMM. I read tweets and posts brushing of the House of Reps and SEC's warning as attempts to intrude into their private finances and choices like amebos. The biting recession should be their concern.
The Nigerian, in my opinion, is not suddenly greedier than the rest of the world, he merely and necessarily wants to survive. He wants to secure his family and the future. Desperation and Aspiration. I heard folks sold properties and borrowed funds just to suck this miraculous milk from this multibreasted, tax-free naira-raining MMM. The hustle was real. But there were neutrals like me. And there were self styled members of moral-uprightness-bureau, some principled, others religious, voicing their own version of Lamentations against the "social ill" or demons disguising as MMM (I don't believe it is demonic). They became the new wailers.
But it crashed. Sorry, it froze. It came as a shock as I saw a colleague make a panicky call to confirm the authenticity of the news. It was real. Someone said that was how it froze in a southern African country and it has remained like that for over six months. It was announced on the website that the mannequin challenge will only last a month. Action will resume on Jan 14. Hearts galloped. Tension everywhere. I heard someone committed suicide. Taunting tweets and posts flooded the internet. The wailers claiming victory. Even those that secretly wished they had joined earlier were adding insults to the injury. Animosity and Hypocrisy. These are desperate times in the country.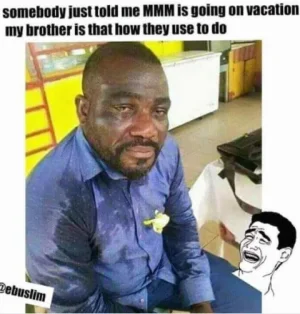 While I know that MMM cannot make you rich (and to be sure, most subscribers know this), I know that people are only trying to survive the harsh economic realities anyhow possible. The hunger out there is real (Trust me , I don waka). People want to survive and they have the right to choose which way. Consider that poor man who thought MMM could yield extra N30, 000 to pay a child's school fees. Do you loathe him? Or do you blame that single mother whose rent is due in three months and who, in one year, could only save up to half the money for seeking refuge in MMM? Let the wailers stop wailing because I think we all have a common enemy. Poverty. Hunger. Let's fight it through ingenuity and industry. Let the reproaching tongue be quiet. Let the anxious mind allow for patience and hope for a great future at least for herself.  I believe MMM will come and go. What will be left is our humanity.
With my own hands. @bamsky007
Pics Credit: Google Images